Wisdom Tooth Extraction – A Wise Move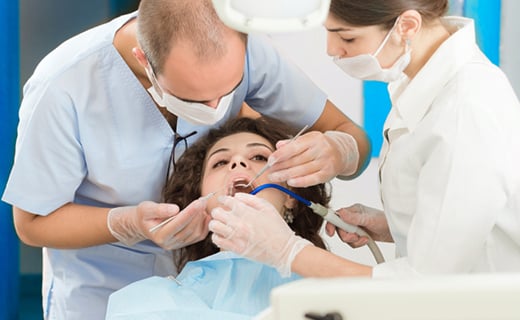 Third molars or wisdom teeth grow in the four back corners of your mouth. They typically appear between the ages of 17 and 22. Wisdom teeth are not necessary, and many of them grow in sideways and become impacted inside the jaw under gum tissue and bone. Impacted wisdom teeth lead to a variety of symptoms and problems that affect your other teeth. If your wisdom teeth can't reach the surface and erupt normally, surgical extraction by your dentist or oral surgeon is often the best solution.
Risks of Not Removing Impacted Wisdom Teeth
In general, it's easier to remove wisdom teeth before the age of 30 due to increased bone flexibility. Risks of not removing impacted teeth include cyst development, infection, mouth discomfort, tooth misalignment, and dental hygiene difficulties. The wisdom tooth extraction cost and anesthesia methods vary based on the complexity of the case; talk to your dentist or oral surgeon about your options.
Common Signs of Impacted Wisdom Teeth
  Inflamed, red, tender, swollen, or bleeding gums
  Swollen jaw
  Jaw or head pain
  Difficulty fully opening your mouth
  Swollen lymph nodes in your neck
  Bad breath or unpleasant taste
If your wisdom teeth cause symptoms, your dentist or oral surgeon can usually remove them in an outpatient dental extraction procedure. If infection is present, the surgery may be delayed while you complete a course of antibiotics. To extract a wisdom tooth, your dentist makes an incision in your gums and removes any bone that is blocking the impacted tooth. The tooth itself is then removed. Afterward, the incision is closed with stitches.
After your surgery, you'll be sent home with a set of after-care instructions to help manage pain and swelling. Serious complications are rare but may include the following:
Infection of teeth or gums caused by trapped food or bacteria
Loss of sensation or nerve pain in lower lips, tongue, or chin
Exposed bone or dry socket
Sinus cavity damage near upper wisdom tooth site
Weakened jawbone
Contact your oral surgeon or dentist in Miami immediately if unusual symptoms develop.
To get the dental care you deserve from an affordable dentist in Miami, call Miami Center for Cosmetic and Implant Dentistry today at (305) 306-9250 or make an appointment.
---
Miami Center for Cosmetic and Implant Dentistry offers affordable family dentistry and gentle, compassionate dental care in Miami. Our offices are conveniently located with extended hours to meet your needs. At Miami Center for Cosmetic and Implant Dentistry, we provide most dental services, from basic preventative care and general dentistry to specialized procedures and complete dental reconstruction. We accept most dental insurance plans and offer affordable financial solutions for any budget. Patient satisfaction is our top priority and we strive to provide the exceptional, affordable dental care and personal touch that lead to lasting relationships. A smiling patient is our greatest reward and we look forward to keeping those smiles healthy, beautiful, and bright. Discover an affordable dentist who truly cares at Miami Center for Cosmetic and Implant Dentistry.