Posted under:
General
Posted on: February 11, 2015
What's the Difference Between Dental Floss and Interdental Cleaners?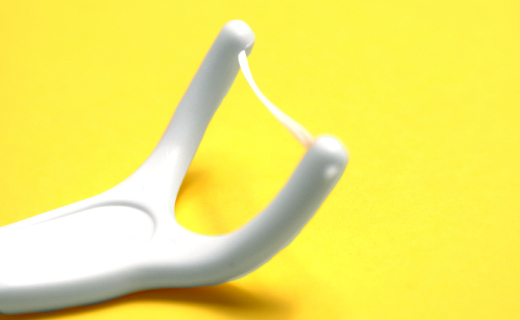 Cleaning between your teeth is an essential part of a good dental care plan. When plaque accumulates between teeth, it can harden into tartar, which can only be removed by a dental professional. When tartar builds up between teeth, gum tissues swell and start to bleed. The condition is commonly known as gingivitis, the earliest stage of gum disease. Toothbrushes can't effectively clean between teeth, so flossing or using interdental cleaners is necessary. Dental floss or tape removes food debris and plaque between teeth and reduces your risk of gum disease and tooth loss.
What is Floss Made From?
Today's dental floss is usually made from plastic monofilaments or nylon filaments. It may contain flavoring agents to make cleaning between teeth more enjoyable. Some floss is coated with wax so that it is easier to slide between teeth. Both waxed and unwaxed floss are effective.
What are Interdental Cleaners?
An interdental cleaner is a wood or plastic device that cleans between teeth. Many such products include tiny brushes attached to their ends. To ensure the best performance and quality, look for the ADA Seal of Acceptance on the packaging of both dental floss and interdental cleaners.
Should You Brush or Floss First?
As long as you do a thorough job of both, either is acceptable. Unfortunately, some people think their teeth are clean after brushing, so they skip flossing altogether. Plaque is still hiding between teeth, even if your mouth feels fresh from brushing.
Is Floss Reusable?
Used floss, even if rinsed, may deposit bacteria between teeth. Floss and disposable interdental cleaners should be discarded after use.
When Should You Floss?
Many people prefer to clean between their teeth in the evening before they go to bed; this ensures that the mouth remains clean while sleeping.
To learn about our family dentistry practice in Miami, call Miami Center for Cosmetic and Implant Dentistry today at (305) 306-9250 or make an appointment.
---
Miami Center for Cosmetic and Implant Dentistry offers affordable family dentistry and gentle, compassionate dental care in Miami. Our offices are conveniently located with extended hours to meet your needs. At Miami Center for Cosmetic and Implant Dentistry, we provide most dental services, from basic preventative care and general dentistry to specialized procedures and complete dental reconstruction. We accept most dental insurance plans and offer affordable financial solutions for any budget. Patient satisfaction is our top priority and we strive to provide the exceptional, affordable dental care and personal touch that lead to lasting relationships. A smiling patient is our greatest reward and we look forward to keeping those smiles healthy, beautiful, and bright. Discover an affordable dentist who truly cares at Miami Center for Cosmetic and Implant Dentistry.