Posted under:
General
Posted on: December 30, 2015
Tooth Replacement: Dental Implants and Other Options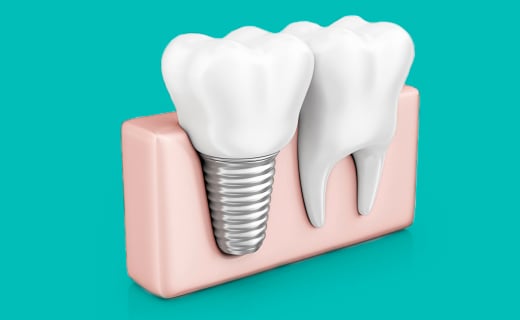 Tooth loss or extraction leaves a space between teeth that may cause problems if allowed to remain. When teeth are removed, the supporting bone tissue shrinks over time. Resorption of the alveolar bone that supports teeth begins almost immediately after extraction. If you lose multiple teeth, significant bone loss may occur, and this can affect your appearance and your ability to wear dentures. Other problems related to tooth loss include drifting of your other teeth and an increased risk of tooth decay and gum disease. Fortunately, if you're missing one or more teeth, you may have several options for tooth replacement.
Methods for Tooth Replacement
One of the most popular and desirable replacements for a single lost tooth is a dental implant. A single implant procedure involves placing a metal post into the jaw to serve as an anchor for a natural-looking artificial crown. Benefits offered by a dental implant include strength, stability, increased longevity, and predictable results. If you have enough healthy teeth to support one, a fixed bridge is another possible option. A bridge uses adjacent teeth to support a prosthetic tooth or teeth suspended between them. An implant-supported or traditional partial denture is also a potential solution. Multiple teeth can be replaced by several single implants, implant-fixed partial dentures, conventional fixed partial dentures, or removable partial dentures.
Disadvantages of Common Tooth Replacement Options
For a dental implant to be successful, you must have enough healthy gum tissue and underlying bone to support it. If you don't, your dentist in Miami may be able to solve the problem with bone grafts and other treatments.
Conventional and implant bridges can increase your risk of cavities and oral infections if strict oral hygiene is not maintained.
Dentures that replace multiple teeth may be uncomfortable or temporarily decrease your sense of taste.
Don't Wait! Explore Your Options
Your tooth replacement options depend on many factors including the length of time that has passed since the loss of your teeth and your general oral health. To learn more, visit an affordable, qualified dentist in Miami for functional and aesthetic restorations.
To learn about our family dentistry practice in Miami, call Miami Center for Cosmetic and Implant Dentistry today at (305) 306-9250 or make an appointment.
---
Miami Center for Cosmetic and Implant Dentistry offers affordable family dentistry and gentle, compassionate dental care in Miami. Our offices are conveniently located with extended hours to meet your needs. At Miami Center for Cosmetic and Implant Dentistry, we provide most dental services, from basic preventative care and general dentistry to specialized procedures and complete dental reconstruction. We accept most dental insurance plans and offer affordable financial solutions for any budget. Patient satisfaction is our top priority and we strive to provide the exceptional, affordable dental care and personal touch that lead to lasting relationships. A smiling patient is our greatest reward and we look forward to keeping those smiles healthy, beautiful, and bright. Discover an affordable dentist who truly cares at Miami Center for Cosmetic and Implant Dentistry.