Posted under:
General
Posted on: August 9, 2015
The Bacterial Origins of Bad Breath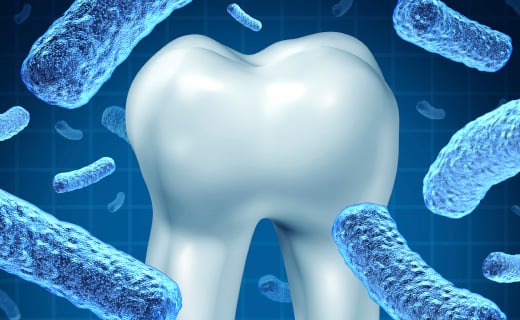 There are few things more embarrassing than realizing your garbage disposal smells better than your breath. Halitosis is a common oral health issue that virtually everyone has experienced. It affects people of every age and walk of life. Even if you take good care of your mouth, circumstances beyond your control can result in breath odors that keep your friends at a distance and make you hesitant to start a conversation. Before you pull out another pack of gum, take a moment to learn exactly what kind of enemy you are facing and why.
9 Common Causes of Bad Breath
First, make note of nine of the most common causes of bad breath:
Smoking or tobacco use
Poor dental hygiene
Corrective mouth appliances like dentures and braces
Inadequate fluid intake
Tooth decay, dental abscesses, and periodontal disease
Medical conditions such as kidney disease, diabetes, sinus infection, throat or lung problems, post-nasal drip, dry mouth, and gastrointestinal disease
Medications such as vitamin supplements, calcium channel blockers, psychiatric drugs, antihistamines, and any substances that decrease saliva production
Foods and beverages such as garlic, onions, cabbage, curry, coffee, and diet soda
Consumption of a high-protein diet
A more specific cause of breath odor involves the waste materials produced by bacteria in the mouth, stomach, or nose that come into contact with air. Biologists have discovered that many types of bacteria and their waste products responsible for other revolting odors also contribute to breath odor in humans. They include the following:
Isovaleric acid, the distinctive aroma of smelly feet
Hydrogen sulfide, the source of rotten-egg odor
The combination of oxygen, sulfur compounds, and nitrogen gases like cadaverine that are collectively responsible for the odor of corpses
Putrescine, which is to blame for the terrible smell of decaying meat
Mercaptan and skatole, substances present in feces odor
In light of such unpleasant revelations, the importance of good oral hygiene and regular dental visits seems even more urgent.
To get the dental care you deserve from an affordable dentist in Miami, call Miami Center for Cosmetic and Implant Dentistry today at (305) 306-9250 or make an appointment.
---
Miami Center for Cosmetic and Implant Dentistry offers affordable family dentistry and gentle, compassionate dental care in Miami. Our offices are conveniently located with extended hours to meet your needs. At Miami Center for Cosmetic and Implant Dentistry, we provide most dental services, from basic preventative care and general dentistry to specialized procedures and complete dental reconstruction. We accept most dental insurance plans and offer affordable financial solutions for any budget. Patient satisfaction is our top priority and we strive to provide the exceptional, affordable dental care and personal touch that lead to lasting relationships. A smiling patient is our greatest reward and we look forward to keeping those smiles healthy, beautiful, and bright. Discover an affordable dentist who truly cares at Miami Center for Cosmetic and Implant Dentistry.