Reasons and Remedies for Tooth Discoloration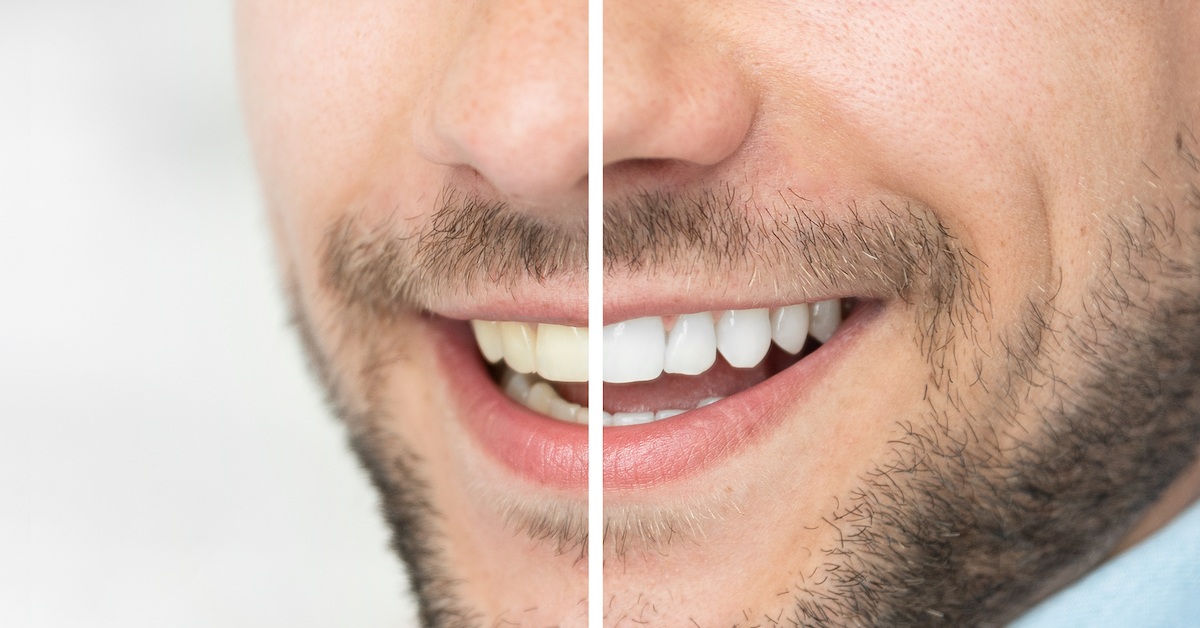 If you're unhappy with your smile because you have discolored or stained teeth, then the following information may help you regain your white teeth and a smile that you'll be proud to show off.
What Are the Common Causes of Stained Teeth?
There are many factors that cause discolored teeth. Some of them can be changed. Some of them are beyond your control. You can change your lifestyle habits and your diet. You can't change your genetics, the medications you require, the aging process, or past trauma to a permanent tooth.
Can My Diet Adversely Affect the Color of My Teeth?
Many of our favorite foods and beverages can cause discolored teeth. This doesn't mean you have to give them up. Rather, some minor changes can minimize their impact on your teeth. Foods and beverages such as:
Dark-colored foods and beverages: Coffee, tea, red wine, blueberries, blackberries, and similar foods can stain and discolor your teeth.
Carbohydrates: Although they're very tasty, foods like white breads and pastries, pasta, cereals, and other starchy foods are full of sugars that can destroy your white enamel and make your teeth appear darker.
Sugared beverages: Energy drinks, fruit juices, sports drinks, and sodas are rife with simple sugars and acids, and they erode your white enamel.
Junk food: Gum and candy are all sugar, so they'll quickly attack your white enamel.
Although many of us really enjoy these types of foods, they're not good for our dental health. If you eat or drink them, make sure that you brush and floss after you consume them.
Are There Foods That Will Prevent Discolored Teeth?
Just as some foods and beverages cause dull, dingy teeth, others can help whiten the teeth. Eating a healthy diet will keep your teeth healthy as well as your body. Try the following to help whiten your teeth:
Plain water: Although it's rather boring, plain water is one of the best beverages for both your body and your teeth. It washes out food particles, sugar residue, and acids that can attack your teeth and cause dental decay and discoloration.
Dairy products: Dairy cheese and milk are excellent sources of calcium and protein, which strengthen your teeth and your bones and neutralize the acids that remain after eating.
Cocoa: Although not usually considered a healthy food, cocoa is a strong anti-inflammatory that can protect you from periodontal disease and dental caries. The flavanols in dark cocoa are the anti-inflammatory substances, so this doesn't apply to milk chocolate or white chocolate or chocolate syrup.
Sugar-free beverages: Some people just can't swallow plain water, so sugar-free beverages are an alternative. They help provide needed fluid and nutrients and increase the flow of your saliva. Be sure to rinse your mouth with plain water afterward, though, to remove any residual acids.
Flax seeds and fish: Both of these are high in omega-3 fatty acids that help prevent inflammation, which can help prevent periodontal disease. Be sure to balance your omega-3 intake with the appropriate amount of omega-6 oils, though, for the best results.
If you have discolored teeth, there are alternatives, so don't suffer in silence. Talk to your dentist about solutions that are tailored to you.
If I Smoke, Can I Avoid Tooth Discoloration?
According to dentists, smoking is one of the primary causes of periodontal disease, and it's the leading cause of tooth discoloration. If you smoke, it will discolor your teeth.
Is There a Form of Tobacco That Won't Discolor My Teeth?
It doesn't matter whether you chew, smoke, vape, or dip. Any form of tobacco use will discolor your teeth. However, there are methods for mitigating the damage that it does.
What If I Don't Want to Quit Smoking and Still Want White Teeth?
If you want to continue smoking despite all of its harmful side effects, then consider some of the following techniques to reduce the damage:
Always brush your teeth after you smoke.
Use a tooth-whitening toothpaste. You may not notice the effect immediately, but it is cumulative, so over time, you'll have whiter teeth.
Eat a well-balanced diet that includes crunchy fruits and vegetables.
Follow the American Dental Association guidelines for brushing and flossing at least twice each day, especially before bedtime. Use an antibacterial mouthwash daily.
Brush and floss after each snack and meal. If you can't brush and floss, then rinse your mouth thoroughly with plain water.
Get professional cleanings at least twice each year.
Being proactive with your dental habits will help you have whiter teeth and a brighter smile.
Which Dietary and Lifestyle Habits Will Help Prevent Tooth Discoloration?
Along with your diet and lifestyle, there are tips and techniques to keep your teeth whiter and brighter, such as the following:
Use at-home tooth-whitening kits for whiter teeth. Be aware, though, that the at-home kits don't whiten as quickly or as effectively as a professional tooth-whitening treatment. You may get teeth that are unevenly colored.
Get needed dental treatments promptly. If you delay treatment, it can damage your teeth and make the enamel appear darker.
Get a professional tooth-whitening treatment from your dentist. A professional treatment is more effective and faster, and you'll have more evenly colored teeth.
Ask your dentist about an at-home kit. Some dentists sell at-home kits that use the same products they use in the office.
Get professional teeth cleanings twice yearly. This will eliminate small stains and discolorations before they worsen.
Be sure to maintain a regimen of good oral hygiene at home.
How Can I Prevent My Teeth From Becoming Stained and Discolored?
Even if you smoke, you don't have to suffer with dull, discolored, and stained teeth. Be proactive about your dental issues and talk to your dentist about your concerns. There are dental devices that can help you with stained teeth, such as crowns or veneers. Bear in mind, though, that you may need to change some of your lifestyle habits and your diet if you're to maintain the degree of whiteness that you want. Otherwise, your teeth will revert to being discolored and stained.