Problems Solved by Affordable Braces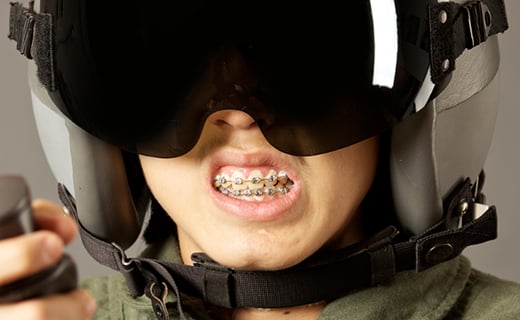 If your family dentist detects tooth or jaw misalignment, you'll probably receive a referral to see an orthodontist. Braces for kids and a growing number of adults can improve both dental health and self-esteem. The American Association of Orthodontists (AAO) suggests that children should have their first consultation by age seven. Although it is too early to apply braces at this age, the visit provides an opportunity to start planning treatments or correct problems that might require braces in the future. Adults can seek orthodontic treatment at any age. Your first visit will probably consist of a visual exam and analysis of your teeth and facial structures. X-rays, models, and photographs may be obtained to supply more in-depth information and help your orthodontist formulate a treatment plan.
What Problems Can Braces Solve?
Braces gradually move teeth into proper position to eliminate gaps, crowding, or overlapping teeth, and align the way your upper and lower teeth fit together when you bite. A misaligned bite is called a malocclusion. Three levels or classes of malocclusion exist. In Class I, the bite is ideal, but crowding or spacing problems may be present. Class II is commonly known as an overbite: the lower first molar is positioned too far toward the back of the mouth while the upper jaw protrudes forward. In Class III misalignment, the first lower molar is positioned close to the front of the mouth while the lower jaw appears to protrude forward. This is also called an underbite. Affordable braces do far more than improve appearance. Correcting misalignment and bite problems can solve a number of problems, such as the following:
Speech problems
Chewing difficulties
Jaw pain and TMJ Syndrome
Sleep apnea
Bruxism (tooth grinding)
Gum disease and tooth decay
Visit Your Family Orthodontics Clinic
Orthodontic treatment can help you keep your teeth and gums healthy, make eating and speaking easier, and enhance your appearance. To learn more, consult your family orthodontics specialist, or visit the American Association of Orthodontics website.
To get the dental care you deserve from an affordable dentist in Miami, call Miami Center for Cosmetic and Implant Dentistry today at (305) 306-9250 or make an appointment.
---
Miami Center for Cosmetic and Implant Dentistry offers affordable family dentistry and gentle, compassionate dental care in Miami. Our offices are conveniently located with extended hours to meet your needs. At Miami Center for Cosmetic and Implant Dentistry, we provide most dental services, from basic preventative care and general dentistry to specialized procedures and complete dental reconstruction. We accept most dental insurance plans and offer affordable financial solutions for any budget. Patient satisfaction is our top priority and we strive to provide the exceptional, affordable dental care and personal touch that lead to lasting relationships. A smiling patient is our greatest reward and we look forward to keeping those smiles healthy, beautiful, and bright. Discover an affordable dentist who truly cares at Miami Center for Cosmetic and Implant Dentistry.