Posted under:
Root Canal
Posted on: November 24, 2020
Invisalign: Frequently Asked Questions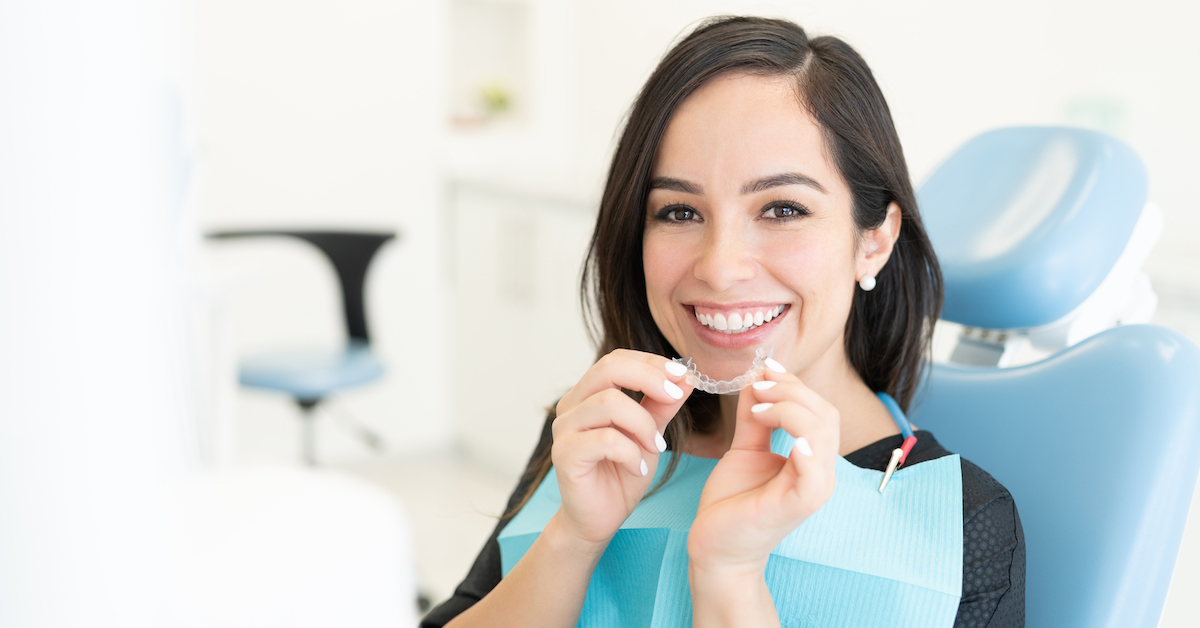 Crooked or misaligned teeth can sometimes be a source of embarrassment or stress. Finding the right orthodontic solutions is a practical step in the right direction for many patients at our dental practice. By working with our team of expert dentists, you can find the best options for correcting crooked teeth and enhancing your smile. Invisalign is one of the most popular orthodontic options available in our area. Consulting with our dental team can help you determine whether Invisalign is the right option for you.
What Is Invisalign?
Most people are familiar with the wires and brackets that make up traditional braces. Invisalign represents a less noticeable way to straighten teeth and to correct minor to moderate issues with the misalignment or spacing of your teeth. Custom-fitted trays are created that gradually move misaligned teeth into the proper position. These trays are known as aligners and are designed to be worn sequentially, with each successive aligner putting the right amount of pressure on the teeth to push them into place. After you have gone through the entire set of Invisalign aligners, your teeth will be in the right place and you can enjoy the brilliant and beautiful smile you have always wanted.
Is Invisalign Right for You?
Invisalign is a great choice for many of the patients we see in our dental practice. It is not the right choice for all patients, however. Once you have a consultation with your dentist, you will both be able to decide which teeth straightening system will work best for you.
Invisalign is not a good choice for the following individuals:
Patients who have severe misalignments or problems with their bite usually do better with traditional braces.
Younger children who are still growing may experience changes in the shape or the size of their jaw and their teeth during the orthodontic process. This can require taking additional molds and restarting the Invisalign process, which can be considerably more expensive than adjusting traditional braces.
Patients who cannot commit to wearing their aligners for at least 20 hours per day are not good candidates for Invisalign. At best, this will slow the process considerably. In the worst-case scenario, however, it could prevent Invisalign from effectively aligning your teeth.
Our dental team will work with you throughout the process to provide you with the right guidance and support for your orthodontic requirements. We can help you look your very best in all that you do.
What Is the Process for Getting Invisalign Like?
Your Invisalign process will begin with a visit to our office and an initial consultation. This will allow our dentists to determine the best approach for your orthodontic issues. If Invisalign is the right solution for you, we will schedule an appointment to take impressions of your teeth. This is necessary to create the custom trays that will be used to correct misalignments of your teeth.
You will go through several different aligners that you will apply in order. Each of these aligners will apply progressive pressure to your teeth to move them into the right position. After you have gone through the entire course of treatment, your teeth will be in proper alignment. During this process, you will visit our office about once a month to check the progress of your tooth realignment and to ensure that you are achieving the result needed. Most people see some visible results from Invisalign treatment within a few weeks. The entire course of treatment could take as long as 12 to 18 months. The speed with which the process is finished depends on the amount of correction needed and the amount of time you spend wearing the aligners each day.
Will My Invisalign Aligners Impact My Daily Activities?
Most people wear their aligners for between 20 and 22 hours a day. This is necessary to achieve the best results. You will need to remove the aligners to eat, drink and brush your teeth. Invisalign trays can be damaged by biting or chewing while they are in place.
Regular brushing and flossing are important to keep your teeth in good shape while you are undergoing Invisalign treatment. This can also help you keep your breath fresh and can ensure that you feel your very best throughout the course of your treatment plan.
Do not worry about being able to speak clearly while you are wearing Invisalign trays. Most of our patients do not experience any change in their ability to communicate clearly because the trays fit snugly over your natural teeth.
You will also need to sleep in your aligners. This will allow Invisalign to continue to correct your tooth alignment issues in the most practical and time-efficient manner possible. It may take a few weeks of wearing Invisalign for the aligners to feel completely comfortable when you are falling asleep.
What Happens After the Invisalign Process Is Complete?
Once your Invisalign treatment has been completed, our dentists may recommend that you wear a retainer on a regular or intermittent basis to keep your teeth in place. Some of our patients will not require any additional treatment for their misaligned teeth and can go back to life as usual.
Invisalign can make it much more comfortable for you to smile brightly and to feel more confident in dealing with other people at work, at school and in social situations. Your teeth are an important component of your smile. Making sure they look their best will help you feel less anxious in your regular activities and can help you make the best possible impression on others in your daily life.
How Can a Local Dentist Help?
If you are considering Invisalign treatment, our dental practice can provide you with practical guidance in determining whether this innovative orthodontic solution is right for you. We work with you at every stage of the process to make sure that you receive the treatment that is best suited to your needs. To learn more about your options or to make an appointment for routine dental care, give us a call today. We look forward to the chance to serve you.