Posted under:
General
Posted on: October 18, 2015
How to Care for Gums and Teeth When You Have Diabetes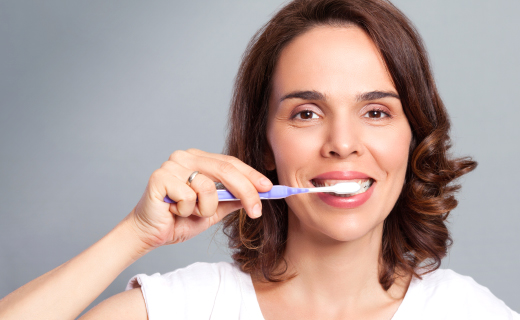 Many adults have some form of gum disease. Periodontal disease ranges from mild inflammation to major damage to the gums and connective tissues that support teeth. Severe gum disease can result in tooth loss. If you have diabetes, you have a higher risk of developing gum disease, especially if your blood sugar is not under good control. Existing gum disease can raise blood sugar levels, which makes it difficult to fight infections all over your body, including your mouth. To avoid the endless circle, you must pay close attention to your oral health and practice proper care for gums.
Diabetes and Dental Care: Daily Tips
To keep gum disease at bay, monitor your blood sugar levels carefully. If they are not within your target range, talk to your doctor about changing lifestyle factors or medications to improve your control. Brush your teeth twice daily with a soft-bristled toothbrush, and floss each day. Be sure to press the floss against your teeth and not your gum tissues. Rinse your mouth with water after consuming sweet or starchy foods to help eliminate food particles that could adhere to teeth. Check your gums regularly for signs of inflammation such as soreness, redness, swelling, or bleeding.
Stop problems before they start by finding an affordable dentist and scheduling regular exams and dental cleanings. You should see your dentist at least every six months and any time you have symptoms of gum inflammation or other dental problems. Before having any dental procedures performed, remind your dentist that you are diabetic. If your blood sugar levels are too high, you may need to postpone surgery until they are under control.
To get the dental care you deserve from an affordable dentist in Miami, call Miami Center for Cosmetic and Implant Dentistry today at (305) 306-9250 or make an appointment.
---
Miami Center for Cosmetic and Implant Dentistry offers affordable family dentistry and gentle, compassionate dental care in Miami. Our offices are conveniently located with extended hours to meet your needs. At Miami Center for Cosmetic and Implant Dentistry, we provide most dental services, from basic preventative care and general dentistry to specialized procedures and complete dental reconstruction. We accept most dental insurance plans and offer affordable financial solutions for any budget. Patient satisfaction is our top priority and we strive to provide the exceptional, affordable dental care and personal touch that lead to lasting relationships. A smiling patient is our greatest reward and we look forward to keeping those smiles healthy, beautiful, and bright. Discover an affordable dentist who truly cares at Miami Center for Cosmetic and Implant Dentistry.