Posted under:
General
Posted on: January 28, 2015
How a Root Canal Can Save a Decayed or Infected Tooth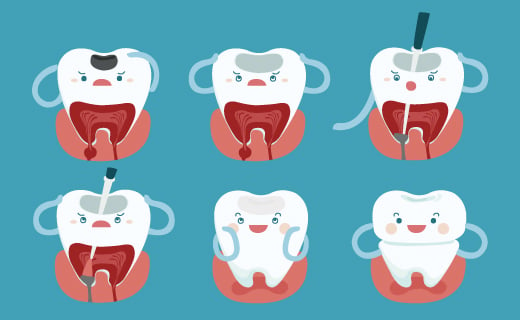 A root canal is a dental treatment that is used to repair and save a tooth that is very decayed or infected. It's performed when the nerve of the tooth gets infected or the soft pulp within the tooth becomes badly damaged. A root canal provides relief by removing the infected and damaged areas in the tooth that are causing your pain. While the procedure is often thought to be painful, most people say it's as pain-free as getting a filling. And by finding an affordable dentist or a specialist in endodontics in Miami, the root canal also won't hurt your wallet.
Reasons for a Root Canal
While some people never have any symptoms, these are the most frequent warning signs:
Persistent swelling and tenderness in the gums.
Severe tooth pain when chewing or applying any pressure to the tooth.
Tooth discoloration
Ongoing sensitivity to hot or cold temperatures, even after they've been removed.
Recurring sores on the gums.
If you're suffering from these symptoms, see your family dentist or find an affordable dentist immediately.
A Peek at the Procedure
Only a dentist can tell you if you really need a root canal. If you do, there's no need to worry because the procedure is practically painless. It requires one or more office visits and can be performed by your family dentist, another affordable dentist or a specialist in endodontics in Miami. The complexity of your case will determine which doctor is best. To ease your mind and your nerves, here's a look at what you can expect:
An x-ray will be taken to see the shape of the root canal and detect signs of infection in the bone.
A local anesthesia will be used to numb the area near the tooth.
A rubber dam will be placed around the tooth to keep the area dry and free from saliva.
An access hole will be drilled into the tooth.
The infected pulp, decayed nerve tissue, bacteria and related debris will be removed from the tooth.
The interior of the tooth will be thoroughly cleaned.
The tooth will either be sealed immediately or covered with a temporary filling and sealed a few days later once the infection has healed.
A crown may be placed on the tooth to restore it to full function.
Post-Procedure Care
The root canal should relieve any pain you've been facing. In fact, root canal treatment has more than a 95% success rate. You may experience some sensitivity around the tooth for a few days after the procedure. Your family dentist will either prescribe medication or recommend an over-the-counter pain medication. Continue to brush your teeth and floss as you normally would. Most people are able to return to their regular activities the very next day with a smile of relief on their face.
To learn about our family dentistry practice in Miami, call Miami Center for Cosmetic and Implant Dentistry today at (305) 306-9250 or make an appointment.
---
Miami Center for Cosmetic and Implant Dentistry offers affordable family dentistry and gentle, compassionate dental care in Miami. Our offices are conveniently located with extended hours to meet your needs. At Miami Center for Cosmetic and Implant Dentistry, we provide most dental services, from basic preventative care and general dentistry to specialized procedures and complete dental reconstruction. We accept most dental insurance plans and offer affordable financial solutions for any budget. Patient satisfaction is our top priority and we strive to provide the exceptional, affordable dental care and personal touch that lead to lasting relationships. A smiling patient is our greatest reward and we look forward to keeping those smiles healthy, beautiful, and bright. Discover an affordable dentist who truly cares at Miami Center for Cosmetic and Implant Dentistry.