Posted under:
Root Canal
Posted on: August 31, 2022
Get the Most Out of National Gum Care Month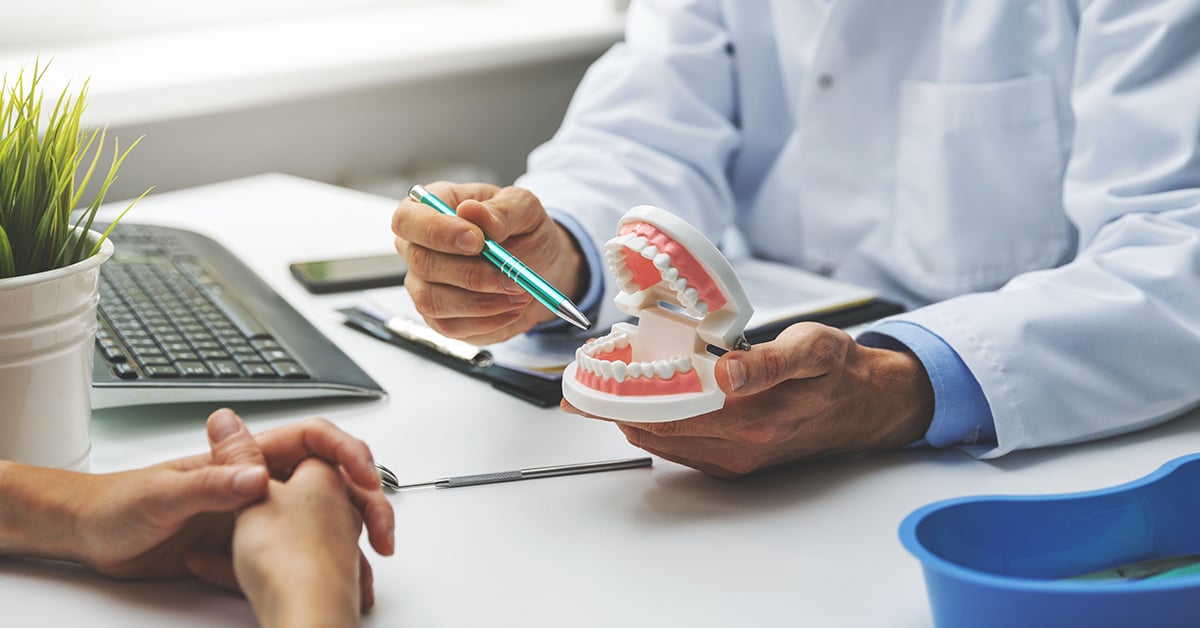 September is National Gum Care Month, and if you want to get the most out of it, it's essential that you take time to learn how to care for your gums. Unfortunately, when it comes to oral care, the gums are one of the most overlooked areas. To make matters worse, the gums are very important to the overall health of your teeth. Without healthy gums, you can't have healthy teeth.
Despite this fact, many children and adults don't take proper time to care for their gums the way they should. This is why the majority of tooth loss that occurs in adults over the age of 35 is the direct result of gum disease.
The good news is that there are ways you can care for your gums to avoid getting gum disease. Pair these oral health tips with visiting your dentist regularly, and you won't have to worry about gum disease destroying your smile or your health.
Gum Disease Can Affect More Than Just Your Teeth
When people think of gum disease, they think of a disease that affects the overall health of their mouths. Of course, this is 100% true. Gum disease can lead to the loss of teeth and even the breakdown of bone within the jaw. However, the truth is that gum disease can affect a lot more than just that.
Studies show that, when left untreated, gum disease can lead to other serious health problems. Dentists have linked it to strokes and heart attacks. Some of these problems are caused by the infections that can develop by leaving gum disease untreated. Regardless of the cause, it's important to note that gum disease affects more than just your oral health. It affects your general health too.
Caring for Your Gums Made Easy
You can see how dangerous gum disease can be. That's why it's so crucial to take care of your gums. The good news is that you don't have to do anything special on your part other than maintain a daily oral health routine. In fact, you're probably doing a few of the things that you need to do to maintain your gum health already.
To start with, you want to make sure that you're brushing your teeth at least twice a day. When you do, make sure that your toothbrush has soft bristles. It's also a good idea to pick a toothbrush that has varying lengths of bristles. This makes sure that they hit every area of your teeth while still stimulating the gums.
Next, make sure that you're flossing your teeth every day. This is a step that's easy to leave out. However, flossing not only stimulates the gums but also removes food particles that make bacteria thrive.
Lastly, make sure that you schedule appointments to go see your Miami dentist every six months. While there are many things that you can do at home to prevent gum disease, you still need professional care from time to time. A good rule of thumb is to go see your dentist at least twice a year.
Spotting the Warning Signs of Gum Disease
Even if you're caring for your teeth the way you should be, there are always chances that you can still develop gum disease. Because of genetics, some people are simply more likely to develop gum disease than others. That's why National Gum Care Month also works hard to spread information about the warning signs of gum disease.
The first warning sign that most people notice is bleeding gums. Usually, the bleeding happens when you're flossing, but it can also happen when you're brushing your teeth. Another common sign that people notice is red or swollen gums. Sometimes, there's even pain around the swollen area. It's often common for this area of the gums to bleed the most.
If you have late stages of gum disease, the warning signs become even more evident. For example, the gums can start to separate and pull back from the lower surface of your teeth. You may even notice that swollen areas of your gums have pus in them, which develops because of the infections that gum disease can cause.
If you notice any of these warning signs, you should go see your dentist. Even if it's not gum disease, these are warning signs that still indicate that something is wrong. By visiting your Miami dentist, you can learn for sure what the problem is and get help deciding the best course of treatment.
Gum Disease: The Different Stages
Like many other diseases, gum disease has stages or progressions. Each stage requires a different level of care and treatment, so understanding which level of gum disease you have is important. The good news is that you don't have to know which level of gum disease you're dealing with. Your Miami dentist can determine that for you. Let's take a quick look at the different stages of gum disease.
The first stage is gingivitis. The most common symptoms are typically bleeding or swollen gums, which are the mildest symptoms and require the least amount of treatment. If left untreated, gingivitis progresses to the next stage of gum disease, which is periodontitis. During this second stage, little pockets can form in the gums and trap bacteria and food particles, which causes the issue to become even worse.
The third stage is known as advanced periodontitis. This is the worst stage as the gums typically start to pull away from the teeth. At this point, the gum disease has usually damaged the soft, connecting tissues and bones that support your teeth. As a result, oral surgery is often the only form of treatment when gum disease has reached this point.
Turn to Us for Help Fighting Gum Disease
Now that you have learned a bit more about gum disease, hopefully you know how important it is to keep this problem under control. Thankfully, you don't have to do it alone. Our friendly staff members are here to help you. We also offer a number of other dental services. Give us a call today to get gum disease treatment in Miami.