Posted under:
General
Posted on: April 5, 2015
Dental Care Tips for Cleaning Ceramic Teeth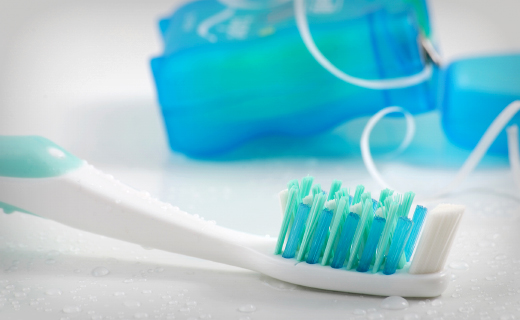 The use of ceramic in dental restoration is not a new concept. The first porcelain denture was introduced in 1789. Ceramic materials come closest to replicating the color and appearance of natural teeth. Because ceramic teeth represent a significant investment, you'll want to protect them by maintaining proper dental care and hygiene. The process of cleaning ceramic teeth is similar to that of cleaning natural teeth, but there are a few important differences. If you've just invested in a ceramic restoration, the following tips can make your dental care routine easier.
7 Tips for Maintaining Gorgeous, Gleaming Ceramic Teeth
Brush your teeth twice each day. Be sure to use a soft-bristled toothbrush and brush gently to prevent scratching your ceramic teeth.
Floss between your teeth nightly. Exercise caution when flossing the area around your ceramic restoration to avoid pulling on the edges of your filling and damaging it. If you have problems flossing your teeth, don't simply avoid this important oral hygiene step. Consult your dentist for advice.
Ask your dentist for oral care product recommendations.
Electric toothbrushes can be used safely, but avoid ultrasonic toothbrushes. They can loosen or release the binding of ceramic restorations.
If you wish to use mouthwash as part of your routine, choose an alcohol-free product. Alcohol can loosen or soften the bonding agents used to keep your ceramic restoration in place.
Visit your dentist regularly for exams, and obtain professional dental cleanings as recommended.
Some cleaning methods, oral care products, or personal habits may not be appropriate for ceramic teeth. Before trying any new product or procedure, seek advice from your dentist.
To get the dental care you deserve from an affordable dentist in Miami, call Miami Center for Cosmetic and Implant Dentistry today at (305) 306-9250 or make an appointment.
---
Miami Center for Cosmetic and Implant Dentistry offers affordable family dentistry and gentle, compassionate dental care in Miami. Our offices are conveniently located with extended hours to meet your needs. At Miami Center for Cosmetic and Implant Dentistry, we provide most dental services, from basic preventative care and general dentistry to specialized procedures and complete dental reconstruction. We accept most dental insurance plans and offer affordable financial solutions for any budget. Patient satisfaction is our top priority and we strive to provide the exceptional, affordable dental care and personal touch that lead to lasting relationships. A smiling patient is our greatest reward and we look forward to keeping those smiles healthy, beautiful, and bright. Discover an affordable dentist who truly cares at Miami Center for Cosmetic and Implant Dentistry.