Posted under:
General
Posted on: November 4, 2015
Control the Agony of Sensitive Teeth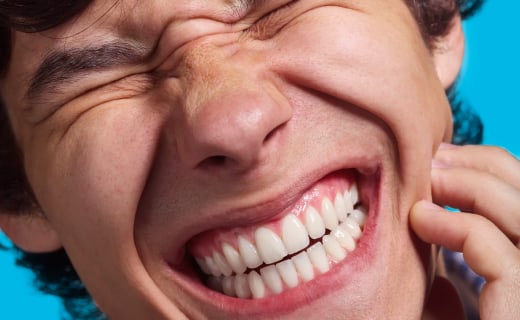 Sensitive teeth can cause a lot of discomfort. You may experience a sharp or sudden pain when you drink or eat something cold, hot, sour, or sweet. Even a simple breath of cold air can trigger the nerve pain that extends deep into your teeth. Teeth sensitivity occurs when your gums recede and expose the dentin beneath their surface; this vulnerable layer of tissue contains your teeth's roots, which have thousands of small tubes leading to the inner nerve center of each tooth called the pulp. When these channels are opened, temperature changes and sweet or sour flavors trigger intense pain.
Causes of Sensitive Teeth
Normal wear and tear
Long-term use of acidic mouthwash
Acidic foods and beverages
Broken or chipped teeth
Brushing too hard
Periodontal disease
Teeth grinding at night
Tooth decay at the gum line
Recent dental procedures
Teeth-whitening products
Aging
Plaque buildup
Dental Care for Teeth Sensitivity
Knowing what to do with sensitive teeth can help relieve the discomfort. The following dental care tips can help you manage your symptoms.
Brush gently twice a day with a soft-bristled toothbrush.
Brush gently around your gums.
Floss every day.
Avoid acidic foods and drinks.
Use a mouth guard to control teeth grinding.
Try a toothpaste made to treat tooth sensitivity. Ask your dentist for product recommendations.
See your dentist in Miamiat least twice a year.
Your Dentist Can Help
If conservative at-home efforts don't ease your symptoms, your dentist can advise what to do with sensitive teeth. Effective in-office treatments include varnishes and dentin sealers to protect exposed tooth roots and white fillings or dental bonding applied over the problem areas.
To learn about our family dentistry practice in Miami, call Miami Center for Cosmetic and Implant Dentistry today at (305) 306-9250 or make an appointment.
---
Miami Center for Cosmetic and Implant Dentistry offers affordable family dentistry and gentle, compassionate dental care in Miami. Our offices are conveniently located with extended hours to meet your needs. At Miami Center for Cosmetic and Implant Dentistry, we provide most dental services, from basic preventative care and general dentistry to specialized procedures and complete dental reconstruction. We accept most dental insurance plans and offer affordable financial solutions for any budget. Patient satisfaction is our top priority and we strive to provide the exceptional, affordable dental care and personal touch that lead to lasting relationships. A smiling patient is our greatest reward and we look forward to keeping those smiles healthy, beautiful, and bright. Discover an affordable dentist who truly cares at Miami Center for Cosmetic and Implant Dentistry.