Posted under:
General
Posted on: January 11, 2015
Brush Up on the Problem of Gingivitis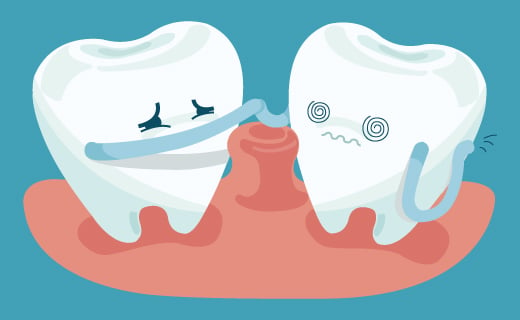 If your gums have gotten red and sore, your mouth is trying to tell you that you may have gingivitis. This is the mildest form of periodontal disease and most people develop this gum disease at some time in their lives. It is often overlooked because its symptoms are so subtle, but if the trouble isn't treated, it can cause serious problems. Since practicing proper oral care can prevent or reverse gingivitis, discover these dental care tips and tricks to deal with this sore subject.
Know the Causes
If you're too tired to brush before bed or keep forgetting to floss daily or avoid regular dental cleanings, you're increasing your risk of gingivitis. This mild form of gum disease is caused when bacteria in the mouth forms a sticky plaque on the teeth. This pesky plaque releases acids that attack the teeth's enamel. It quickly hardens into a layer of tartar that forms along the gum line and makes it hard to clean your teeth and gums. Soon, this buildup starts to inflame your gums and causes gingivitis.
Spot and Stop the Symptoms
Some people don't know that they have gingivitis until their dentist tells them. But rather than wait until it's too late, you can catch this periodontal disease at its earliest stages since it literally leaves these "red" flags:
Red, swollen, soft gums
Sore gums that are tender when touched
Bleeding gums
Mouth sores
Prevent the Problem
The good news is that gingivitis can be prevented or reversed. The bad news is that this gum disease can return at any time. To avoid or avert this dental danger, the American Dental Association asks you to keep these healthy habits:
Brush your teeth twice a day, but be sure to use a gentle touch and thoroughly clean all surfaces.
Floss daily.
Rinse once a day with a mouthwash labeled as antigingivitis, antibacterial, or antiseptic.
See your dentist every six months for check-ups and cleanings.
Choose healthy foods and beverages.
Stop smoking.
Gingivitis can happen to anyone. But by taking care of your teeth and gums, you can beat and treat periodontal disease.
To get the dental care you deserve from an affordable dentist in Miami, call Miami Center for Cosmetic and Implant Dentistry today at (305) 306-9250 or make an appointment.
---
Miami Center for Cosmetic and Implant Dentistry offers affordable family dentistry and gentle, compassionate dental care in Miami. Our offices are conveniently located with extended hours to meet your needs. At Miami Center for Cosmetic and Implant Dentistry, we provide most dental services, from basic preventative care and general dentistry to specialized procedures and complete dental reconstruction. We accept most dental insurance plans and offer affordable financial solutions for any budget. Patient satisfaction is our top priority and we strive to provide the exceptional, affordable dental care and personal touch that lead to lasting relationships. A smiling patient is our greatest reward and we look forward to keeping those smiles healthy, beautiful, and bright. Discover an affordable dentist who truly cares at Miami Center for Cosmetic and Implant Dentistry.