Posted under:
General
Posted on: February 25, 2015
Are You Troubled by Twinges of Tooth Pain?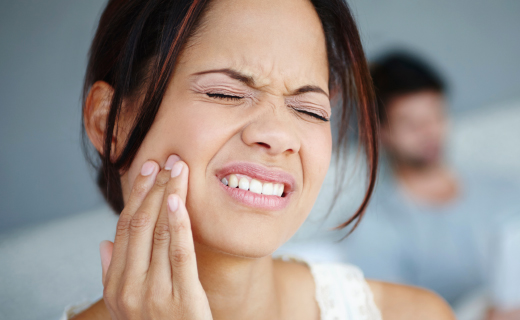 There are many types of tooth pain, from subtle sensitivity to lingering long-term agony. But you don't have to take the ache any longer. To find the ideal treatment for teeth, it's important to know if the pain is caused by decay, infection or injury. To help you understand your symptoms and know the best ways to soothe them, we've put together this helpful guide to help you ease the pain.
Sudden Sensitivity to Hot and Cold Food and Beverages
Do frosty foods and hot drinks cause your teeth to tingle? It's usually caused by a minor problem like a lost filling, a bit of decay or a slight gum recession. Here are four tips to treat the twinges:
Try toothpastes made for sensitive teeth.
Brush with a soft brush and a gentle touch.
Only brush with an up-and-down motion since brushing sideways can wear away exposed root surfaces.
Visit a dental clinic if these tips don't treat the trouble.
Sensitivity to Hot and Cold After Dental Work
If you've recently had dental work, you may experience sensitivity. Dental work can irritate the pulp inside of the tooth, causing temporary sensitivity to extremes in temperature.
Try waiting for two to four weeks to see if the pain passes.
If the sensitivity stays, visit a dental clinic to get to the root of the problem.
Pain When Biting Down
This may be caused by tooth decay, a crack in the tooth, or simply a loose filling. Yet it can also come from deep damage to the tooth's tissue.
Find a dentist in Miami to get an expert opinion.
You may be referred to a specialist called an endodontist if the problem is caused by tissue damage.
The endodontist will most likely perform a root canal to remove the damaged tissue and eliminate the ache.
Constant Pain, Swelling, and Sensitivity
When your teeth are causing this type of trouble, the problem may be an abscessed tooth that has caused an infection in the bone and tissue.
Go to a dentist in Miami for treatment options to save the tooth.
You may be referred to an endodontist if you need the care of a specialist.
Take over-the-counter medications to relieve any pain until your appointment with the endodontist.
Dull Discomfort and Pressure in the Jaw and Upper Teeth
You may need to blame bruxism, which is the grinding of the teeth. Yet this can also be caused by a sinus headache, which is felt in the face and teeth.
Find a dentist in Miami if you tend to grind your teeth to discuss the treatments for bruxism.
Sinus headache sufferers can try over-the-counter medication, but should go to a specialist if the pain is a chronic problem.
To learn about our family dentistry practice in Miami, call Miami Center for Cosmetic and Implant Dentistry today at (305) 306-9250 or make an appointment.
---
Miami Center for Cosmetic and Implant Dentistry offers affordable family dentistry and gentle, compassionate dental care in Miami. Our offices are conveniently located with extended hours to meet your needs. At Miami Center for Cosmetic and Implant Dentistry, we provide most dental services, from basic preventative care and general dentistry to specialized procedures and complete dental reconstruction. We accept most dental insurance plans and offer affordable financial solutions for any budget. Patient satisfaction is our top priority and we strive to provide the exceptional, affordable dental care and personal touch that lead to lasting relationships. A smiling patient is our greatest reward and we look forward to keeping those smiles healthy, beautiful, and bright. Discover an affordable dentist who truly cares at Miami Center for Cosmetic and Implant Dentistry.