Posted under:
General
Posted on: January 25, 2015
Are You Facing the Grind of Bruxism?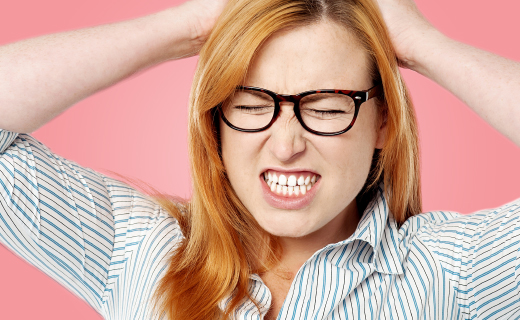 Bruxism is a disorder where you repeatedly grind or clench your teeth to the point of dental damage. Some people do it to cope with stress, while others do it while they're sleeping. Whether it's a daily habit or an unconscious act, it's important to know how to spot the signs and properly treat the condition since it can lead to many major problems.
Grounds for Grinding
While the cause of teeth grinding isn't completely understood, it is often attributed to these psychological and physical reasons:
Emotions including anxiety, anger, frustration, and stress
An aggressive, competitive, or hyperactive personality
A psychological coping strategy or habit when focusing
Abnormal alignment of upper and lower teeth
Sleep problems, such as sleep apnea
Stomach acid reflux
The response to an earache or teething pain in children
Complication resulting from a medical disorder like Parkinson's disease or Huntington's disease
Symptoms of Suffering
It's simple to see the signs of bruxism because they're often written all over your face. If you experience these symptoms or notice them in a family member, then it's time to get treatment for this teeth grinding and you should make an appointment at one of the dental clinics in Miami. The signs of a problem include:
Teeth grinding or clenching
Worn tooth enamel that exposes the tooth's inner layers
Flattened, fractured, loose, or chipped teeth
Sensitive teeth
Soreness in the face or jaw
Tight, tense jaw muscles
Gnaw marks on the inside of your cheek
Indentations on the tongue
Dull headache, starting in the temples
Pain similar to an earache
A Range of Remedies
While it's wise to get an expert opinion from one of the dental clinics in Miami, treatment isn't always required. Many adults have a mild case that doesn't call for treatment, while numerous kids just outgrow the problem. But if the bruxism is severe, these are the various approaches and therapies for treatment:
Dental correction can put teeth back in proper alignment to reduce teeth grinding.
Mouth guards and splints can separate teeth to prevent dental damage.
Behavior therapy can help change the behaviors causing the bruxism.
Stress management techniques can help you cope with tension to relieve stress-related bruxism.
Medication like muscle relaxants and Botox injections can relax the muscles to reduce the tension that leads to grinding.
To get the dental care you deserve from an affordable dentist in Miami, call Miami Center for Cosmetic and Implant Dentistry today at (305) 306-9250 or make an appointment.
---
Miami Center for Cosmetic and Implant Dentistry offers affordable family dentistry and gentle, compassionate dental care in Miami. Our offices are conveniently located with extended hours to meet your needs. At Miami Center for Cosmetic and Implant Dentistry, we provide most dental services, from basic preventative care and general dentistry to specialized procedures and complete dental reconstruction. We accept most dental insurance plans and offer affordable financial solutions for any budget. Patient satisfaction is our top priority and we strive to provide the exceptional, affordable dental care and personal touch that lead to lasting relationships. A smiling patient is our greatest reward and we look forward to keeping those smiles healthy, beautiful, and bright. Discover an affordable dentist who truly cares at Miami Center for Cosmetic and Implant Dentistry.