Posted under:
General
Posted on: March 11, 2015
18 Habits That Make Your Dentist Cringe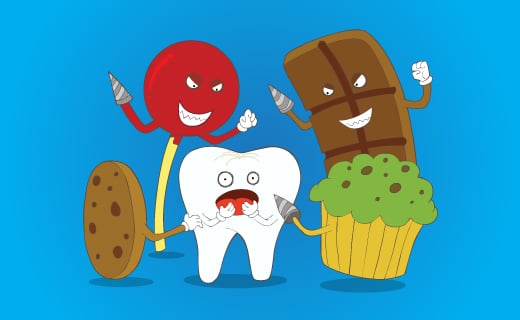 It takes work to keep your teeth and gums healthy. You're probably aware that brushing twice a day and flossing once a day are important for maintaining your dental health, but there's much more to keeping your smile healthy than good dental care and regular appointments with an affordable dentist. You may be one of the many people who unknowingly damage their teeth every day with common habits that seem innocent but can result in serious damage and tooth decay. Knowledge is an indispensable part of good dental care. To keep your smile healthy for life, stay far away from the following destructive behaviors:
Nighttime tooth grinding can wear down your teeth over time.
Chewing ice can crack or chip your teeth.
Consuming cough drops containing sugar encourages tooth decay.
Playing sports with no mouth guard leads to serious tooth injuries.
Smoking stains your teeth and leads to gum disease and oral cancers.
Chewing on non-food objects can chip or crack teeth.
Drinking coffee can cause deep stains.
Opening bottles or plastic packages with your teeth can cause serious tooth injuries.
Drinking fruit juice with added sugars can lead to cavities.
Giving babies bottles at bedtime increases the risk of tooth decay.
Red wine stains your teeth easily.
White wine contains acids that make your enamel more porous and vulnerable to stains from other foods.
Continuous snacking throughout the day creates more plaque and less saliva than eating regular meals.
Tongue and lip piercings can crack teeth, cause gum irritation, and increase your risk of oral infections.
Drinking sodas exposes your teeth to sugar acids as well as phosphoric and citric acids. Diet sodas contain acid from artificial sweeteners.
Eating gummy candies exposes your tooth enamel to sugars for longer time periods than other sweets.
Consuming sports drinks frequently exposes your teeth to sweeteners that encourage plaque formation.
Eating potato chips causes problems when plaque bacteria break down starches into harmful acids.
To learn about our family dentistry practice in Miami, call Miami Center for Cosmetic and Implant Dentistry today at (305) 306-9250 or make an appointment.
---
Miami Center for Cosmetic and Implant Dentistry offers affordable family dentistry and gentle, compassionate dental care in Miami. Our offices are conveniently located with extended hours to meet your needs. At Miami Center for Cosmetic and Implant Dentistry, we provide most dental services, from basic preventative care and general dentistry to specialized procedures and complete dental reconstruction. We accept most dental insurance plans and offer affordable financial solutions for any budget. Patient satisfaction is our top priority and we strive to provide the exceptional, affordable dental care and personal touch that lead to lasting relationships. A smiling patient is our greatest reward and we look forward to keeping those smiles healthy, beautiful, and bright. Discover an affordable dentist who truly cares at Miami Center for Cosmetic and Implant Dentistry.